When you think of solar energy, a roof-mounted solar panel is all you can imagine. That is the most common way to produce solar energy. It is ergonomic for sure, but the process of installation is pretty daunting. On top of that, it looks bland, and it is heavily dependent on the weather. Ever imagined a solar energy system in the shape of a sunflower? Let us introduce you to Smart flower
A flower-shaped energy system that is a one-stop solution for all your clean energy requirements. This panel adds the much-needed beauty quotient to the solar energy system and comes with trouble-free installation.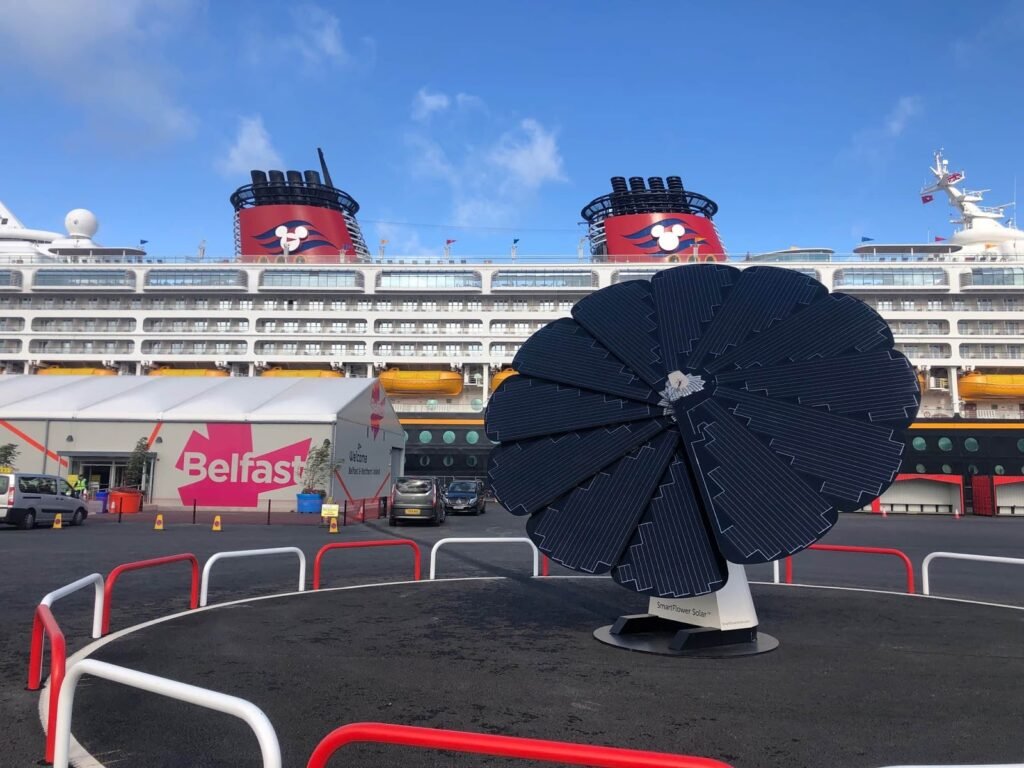 Smartflower
(Image Courtesy: https://facebook.com/smartflowersolar/)
Smart flower: About the Company
Smartflower is a solar energy company that has its roots in Austria. In 2018, Energy Management Inc. (EMI), a Boston-based corporation acquired Smartflower.
The Solution & How It Works
Smartflower is an autonomous photovoltaic system that you can install anywhere. The company has developed this innovative solution to get access to solar power, without using regular solar panels. Taking inspiration from nature, they have designed a "smart flower" that operates in the same way as a sunflower. Sunflowers follow the way of the sun to get access to sunlight. The opening and closing of the sunflowers and their movements are determined by the sun. In the same manner, the solar flower engineered by Smart flower has a 'solar tracking' system, that allows it to get maximum exposure to sun rays.
Smartflower is available in 2 different variants: Smartflower and Smartflower+ Plus. The Smartflower+ Plus comes with a domestic storage battery that can store excess energy for later use.
How is Smart flower Different from Regular Solar Panels?
You cannot install a solar panel just anywhere. In most cases, they are roof-mounted and require a large amount of space for installation. They are also limited by weather conditions. This is where Smartflower comes into the picture. The idea behind this revolutionary sunflower solar panel is to address the shortcomings of a regular solar panel.
You can install Smartflower wherever you please. This is a ground-mounted system that can be useful for both residential and commercial purposes. All it needs is a space that has adequate exposure to sunlight.
The Smartflower is equipped with a dual-axis solar tracker so that it can follow the sun. This tracker makes sure that the system can produce ample amounts of solar energy throughout the day. This is a feature that conventional solar panels don't have.
Other than these, the Smartflower has a long list of features that sets it apart from any other type of solar panels.
Features of Smart flower
1. The system is autonomous. It doesn't require any additional parts for functioning. The 5-meter long design contains every component that it needs for smooth operation.
2. Smart flower comes with a unique mechanism that replicates a sunflower. The design itself looks like a flower, with 12 petals. In the morning, after sunrise, the petals open up on their own to soak in the sunlight, and they start producing solar energy. As the sun goes down, the petals fold down on their own. The solar tracker helps the petals to locate which way they can get the maximum amount of sunlight.
3.The system tracks and monitors weather conditions to decide when to open and fold the petals. The petals fold up automatically when the wind is strong, to keep the system well-protected.
4. The panel doesn't require any external cleaning agent. The panel comes with a convenient self-cleaning system that does all the work on its own.
5. Since there are no extra parts, the entire installation takes just a few hours. Unlike traditional solar panels, the installation process is much more hassle-free. If you decide to shift the solar flower to some other location, you can do that with ease.
6. It has a smart cooling technology that prevents the system from overheating, which in turn, maximizes energy production. The rear ventilation keeps the panel 18°F cooler than its normal temperature.
7. You can track the device with the help of your smartphone. This is a smart feature unique to Smartflower, that allows you to access various information about the system and its operations.
Where Can You Use It?
Smartflower
(Image Courtesy: https://facebook.com/smartflowersolar/)
Municipalities
Municipalities can encourage the residents to embrace sustainable energy solutions in their everyday life. And when it comes to solar energy, the beauty and utility of a solar flower makes it a great choice.
Hospitality
Commercial centers such as hotels, resorts, and restaurants can install Smartflower to get access to unrestricted solar power while promoting the use of sustainable and clean energy.
Cars
Smartflower Pop-e is equipped with a power station that you can use for charging electric cars.
Does It Come with a Warranty?
Smartflower offers a system warranty of 5 years and a 25-year performance warranty. As compared to regular solar panels that offer 25 years of warranty on both performance and the structure, Smartflower is lagging behind in this aspect. Considering the huge cost that you have to bear, the warranty period doesn't seem to be sufficient.
Smart flower: Cost of Installation
The cost of the Smartflower solar panel is about $25000 to $30000, depending on which model you choose. If you opt for the Smartflower+ Plus, then you would have to pay an extra amount for batteries that are used for storing solar energy. But after considering the 30% tax credit for solar power installation, the cost goes down to approximately $20000.
Smartflower
(Image Courtesy: https://facebook.com/smartflowersolar/)
Pros and Cons
Like any other solution, Smart Flower has its fair share of advantages and shortcomings.
Pros
An environment-friendly way to get clean energy
Produces 40% more energy than usual roof-mounted solar panels
The sculptural design looks beautiful
Offers a versatile alternative to rooftop PV system
Comes with an efficient smart-cleaning technology
The photovoltaic panels cool down on their own
Easy to supervise the amount of electricity production and consumption
SmartFlower mobile app ensures full tracking of the process
You can set it up anywhere
Easy to install
Foldable
Cons
Expensive
Low annual energy output
Offers limited warranty
Final Thoughts
With its innovative design and nature-inspired mechanism, Smart flower solar system is here to transform the way we perceive solar energy. Smart flower is definitely a lot more convenient than other solar panels, in terms of installation, maintenance, and tracking. But its rate of annual energy production is less, and the warranty could have been better. Now the final choice depends on your requirements. If you want a stylish, beautiful yet efficient solar energy solution for your home or office, and you have a higher budget, Smartflower can be a good option.
Contact Details
If you want to know more about this solution, or you plan to set it up for yourself, here are the contact details of the company.
Official Website: https://smartflower.com/company/
Address: 20 Park Plaza, Suite 1101, Boston, MA 02116, US
Email: info@smartflowersolar.com
Contact Number: +1 617-918-7000
LinkedIn: https://www.linkedin.com/company/smartflower-north-america
Twitter: https://twitter.com/smartflower_sol
Facebook: https://facebook.com/smartflowersolar/
Instagram: https://instagram.com/smartflower_solar?igshid=8nirwkpi6rcm